Travel to Copenhagen and take part in a watercolour course just behind the Botanical Garden in the heart of Copenhagen.
Artist Mette Hansgaard teaches watercolour in her studio in the middle of the city.
Watercolour lessons can be in both English or in Danish. So feel free to contact me.
Book an appointment for a minimum of two people for a cozy event in Mette's studio in Copenhagen.
The price is DKK 500.- pr. person for 2 hours. or if you pay in Euros 70.- cash.
At one-off events, you can borrow watercolors and brushes and paper are handed out for specific exercises, which I guide you through
Special event for tourists who want to learn how to paint watercolor in Copenhagen
Combine your journey learning to paint watercolour at Mette's watercolour course in Copenhagen.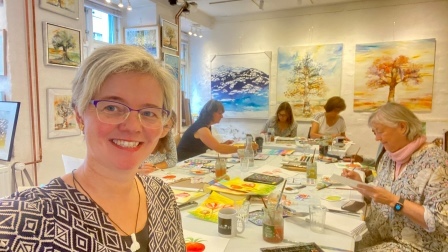 Creative Watercolor classes
We are painting landscapes, nordic light, flowers and fruit as an inspiration.
Please Contact Mette on e-mail for information and booking of dates and time.
Feel free to see Mettes danish webpage for more information in danish.